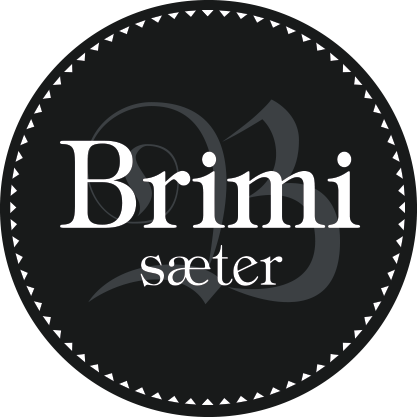 EPIC and excuisite
PURE Mountain charm
Along thousand-year-old paths, we bring our farm animals to summer pastures in Jotunheimen every summer. Between historic timber walls, with a view over the mountain lake Tesse, we have made the dream of the good life come true – with memorable meals and accommodation, live animals and mountain adventures we wish to share with you.
Seasons at Brimi seter
Take a break from daily life and endulge in the adventure at our vivid summer farm in Jotunheimen mountains.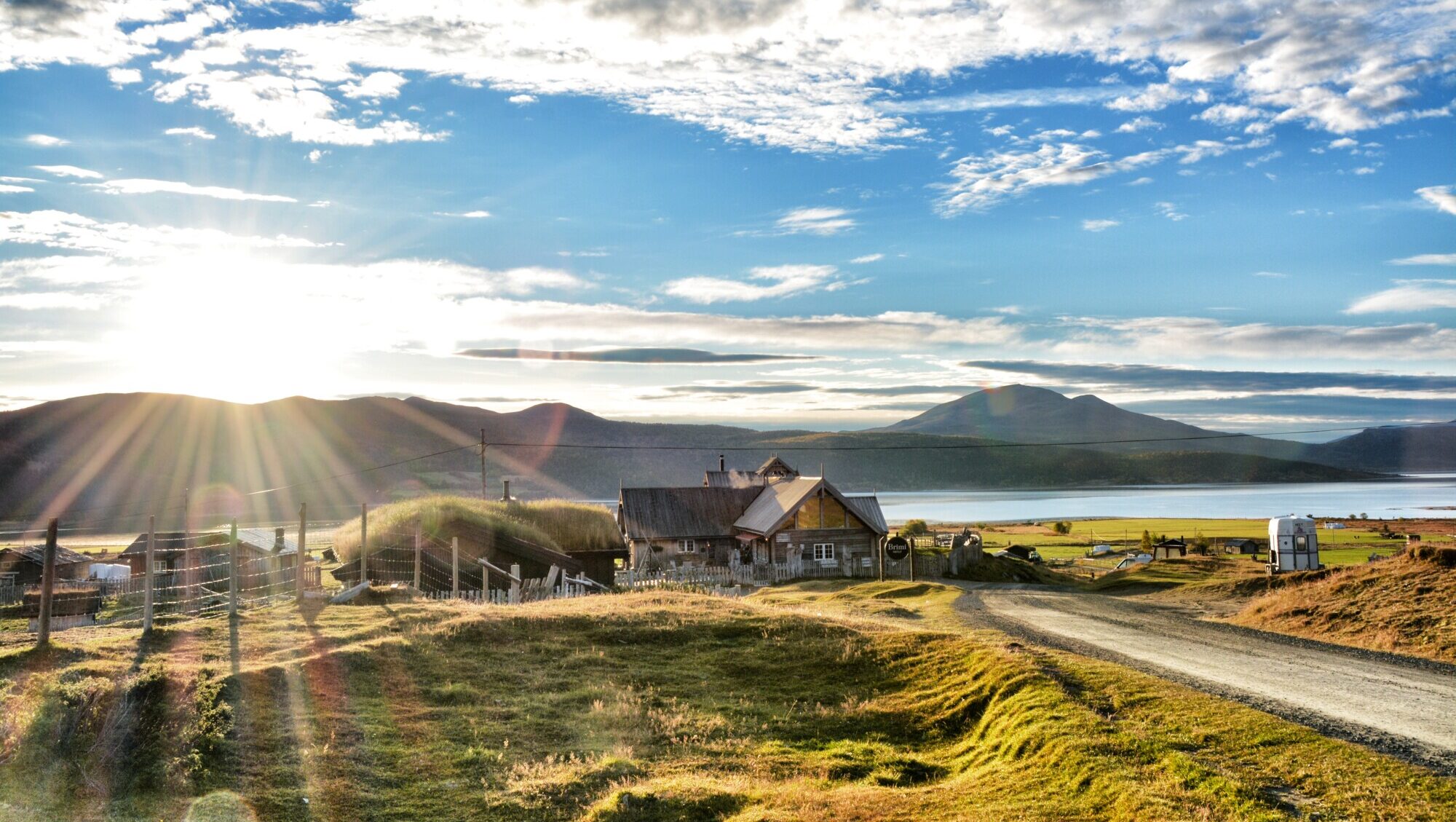 From medio May
Spring
Whistling brooks and verdant sprouts in a mountain pasture that comes to life.
Weekend stay with accomodation and Skråpå-tå menu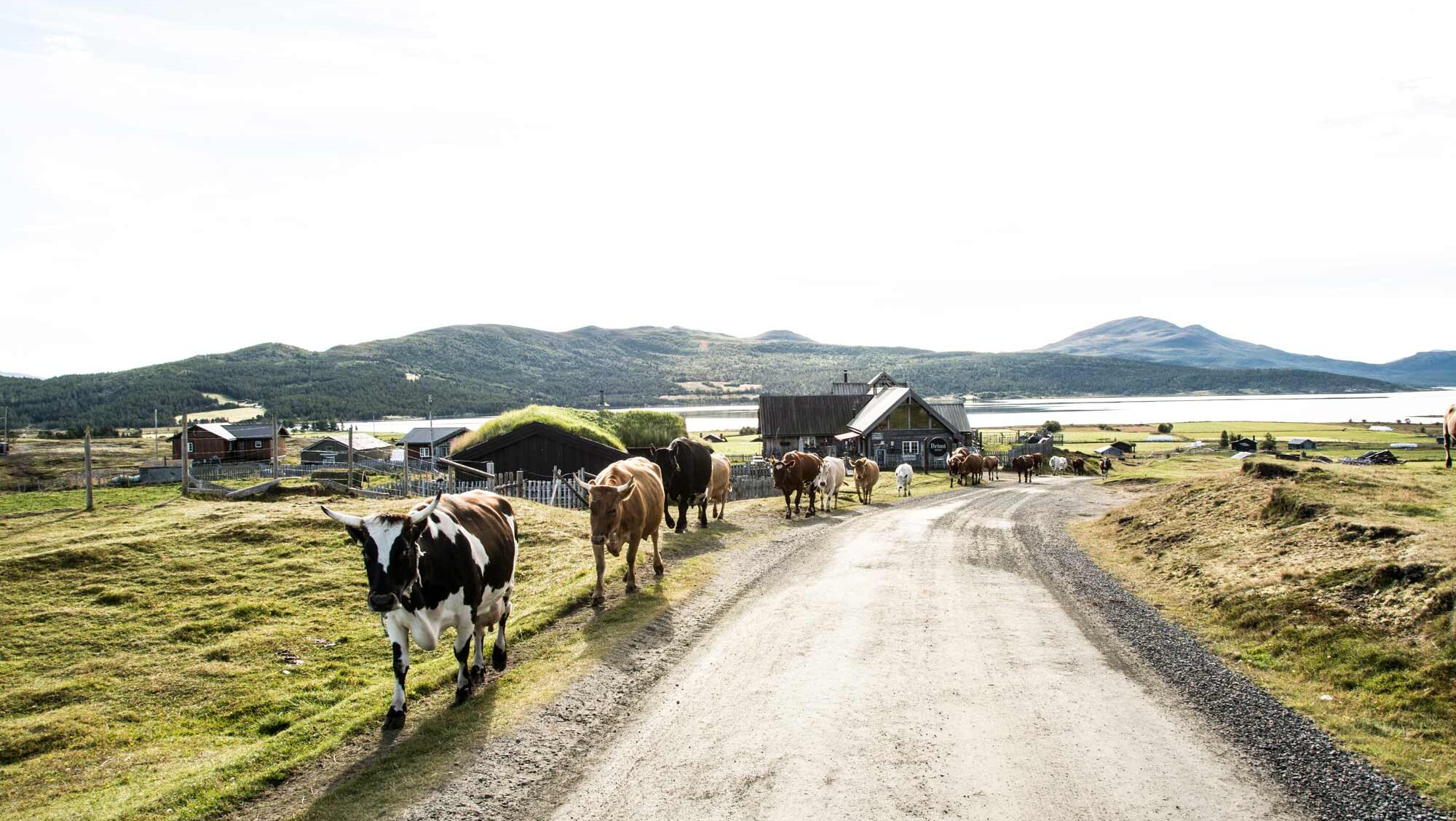 From medio june
Summer
High season in the highlands. Brimi Seter bustles with life, social sharing and a memorable meal.
Barn Café, Skråpå-tå menu, accommodation and farm shop with local produce.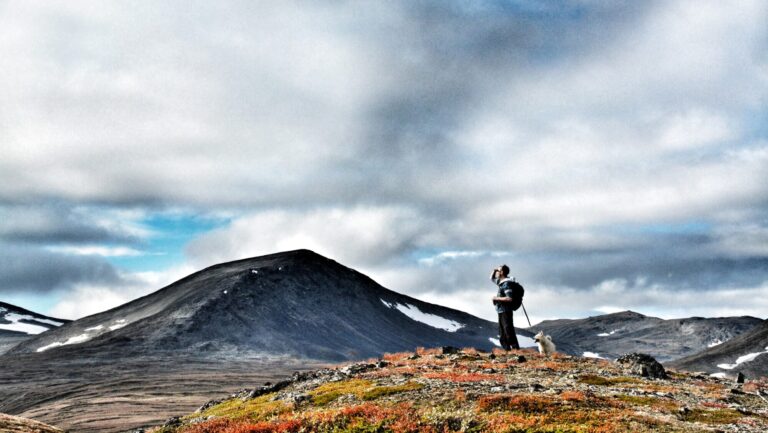 From medio AUGUST
Autumn

Season for gathering and harvesting. Autumn is our favorite time in the mountains with colours exploding.

Weekend stay with accomodation and Skråpå-tå menu
Brimi Seter is closed during the winter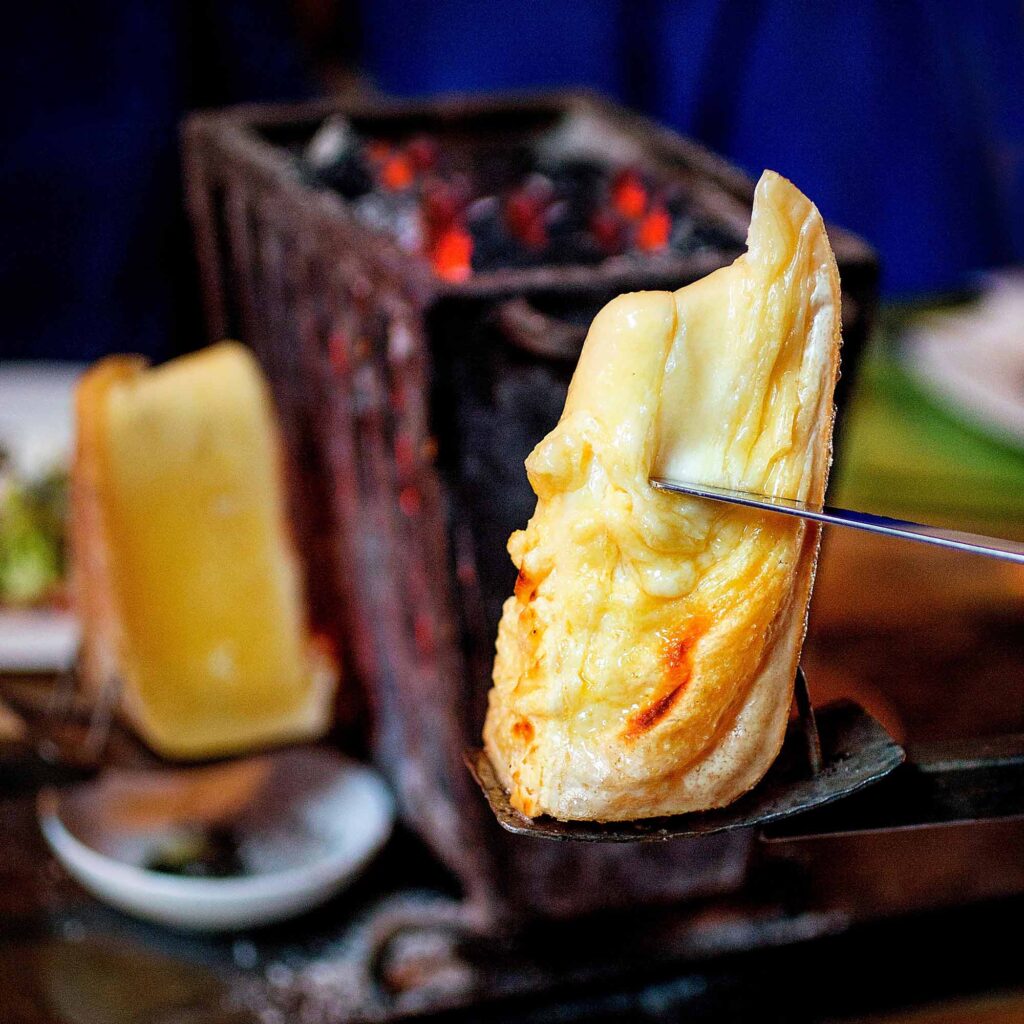 Skråpå-tå
Signature menu | Four courses
For thousands of years, the land surrounding the mountain lake Tesse has been our supply of excuisite food. Our signature menu is based on untraveled ingredients from our own animals and local cousine.
Skråpå-tå menu is served with love for mountain life and deep respect for the generations who have taught us to harvest from Jotunheimen. Spiced with stories about folk and fairies, huldra and other creatures from the underground. A four course feast for all senses.
Stay at the mountain pasture
Bed | Room | Barn | Lavo
In spring, summer and autumn, we offer accommodation in historic and distinctive log houses. In light summer nights, we invite guests to sleep over in lavo tents in the yard.
Enjoy the night and the mountains to the fullest. Authentic mountain charm in Jotunheimen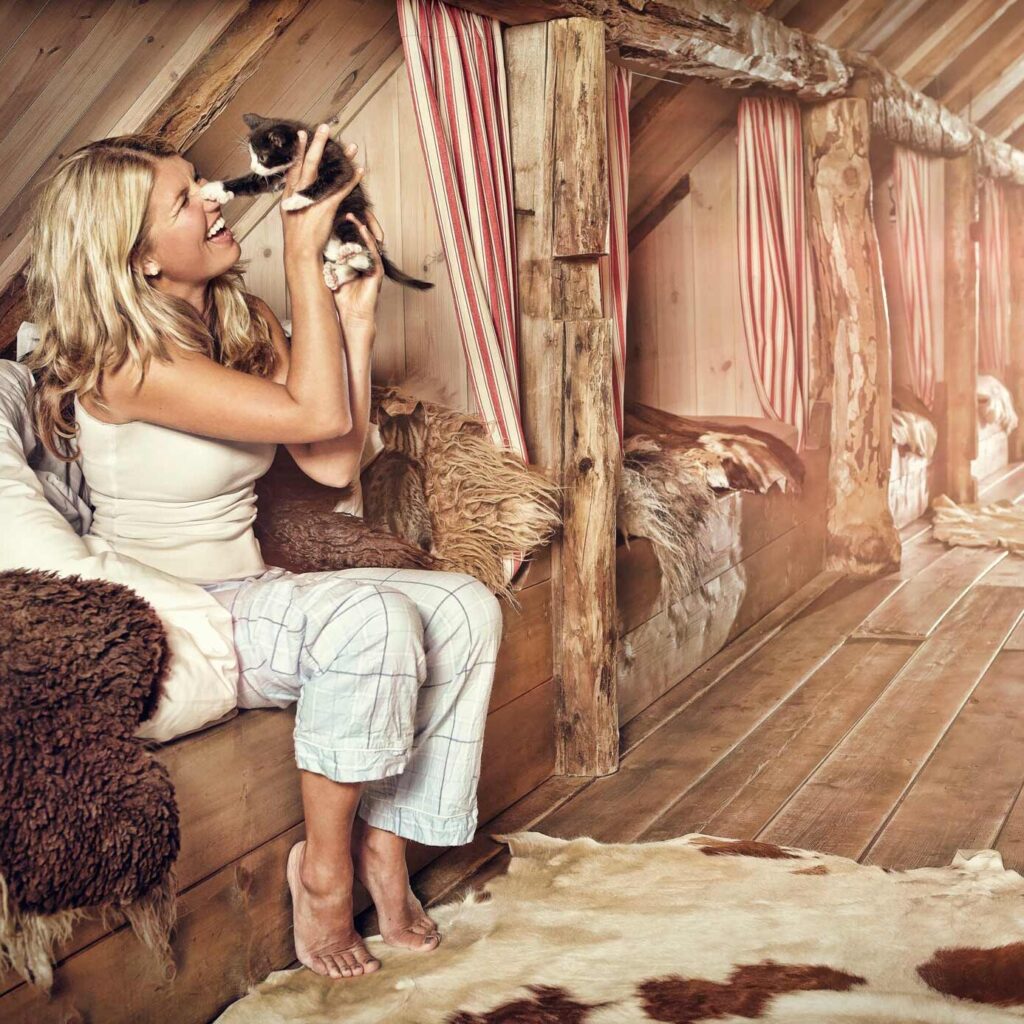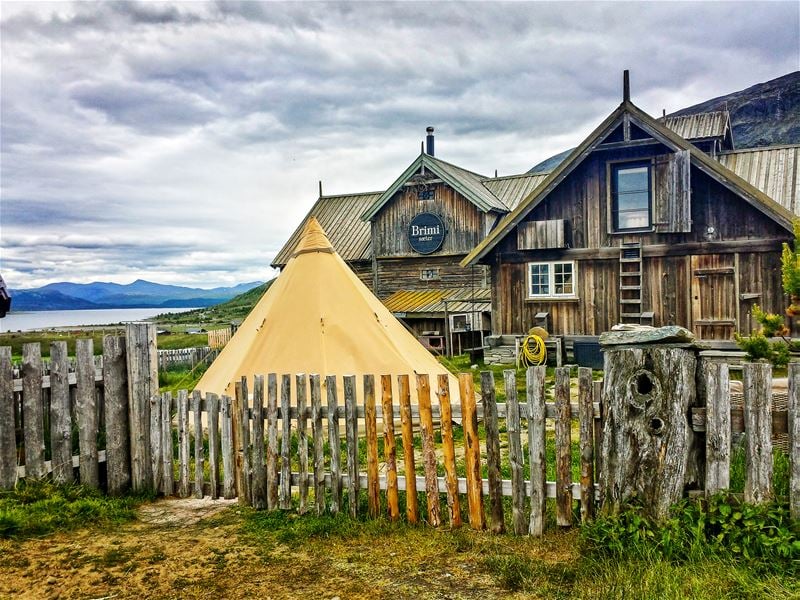 ALL IN A BARN
Meals | Accomodation | Delicatessy Farm animals | Cheese making
The log barn at Brimi Seter was set up by our great-great-grandfather who sailed home from America in 1906. It was the impulses from America that made the barn so large compared to other barns in Jotunheimen. Between walls full of history, you will find a restaurant and café, shop and reception, barn and cheese factory, kitchen and accommodation. So close to the animals that you wake up to a new day to the sound of cow bells and the girls milking the livestock.
LIFE AT THE SUMMER FARM
Farm animals | Cheese factory | Local food
From time immemorial, the seter was a gathering place for both herdsmen and farm owners, haymakers and fiddlers, youth and the underground.
At Brimi Seter, we cultivate the togetherness that easily arises in the idyllic setting – so feel free to take part in seating life and play.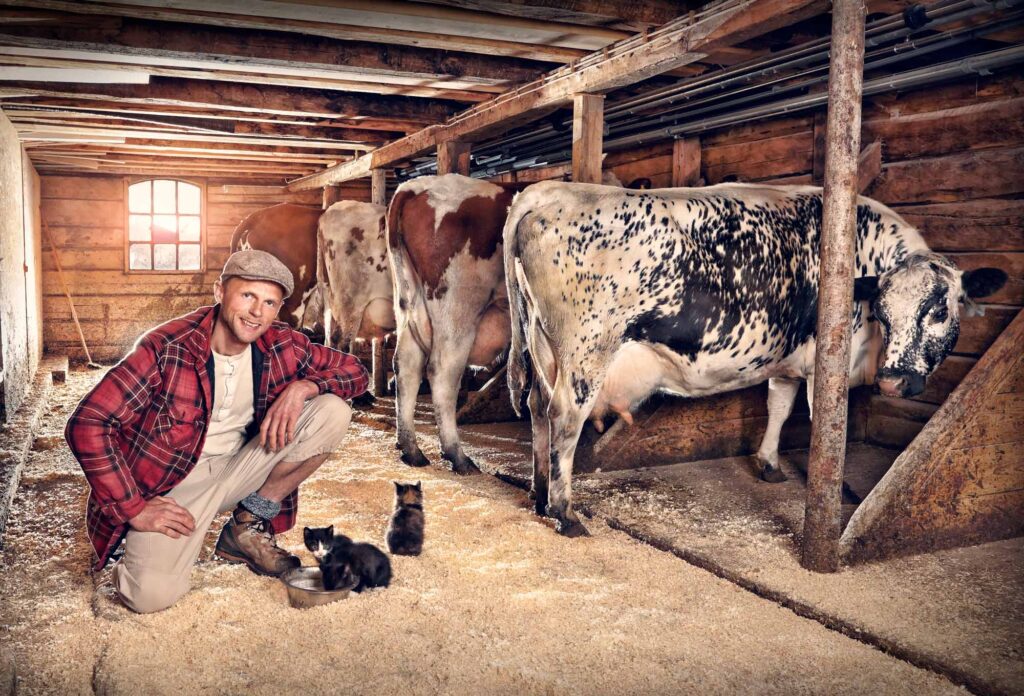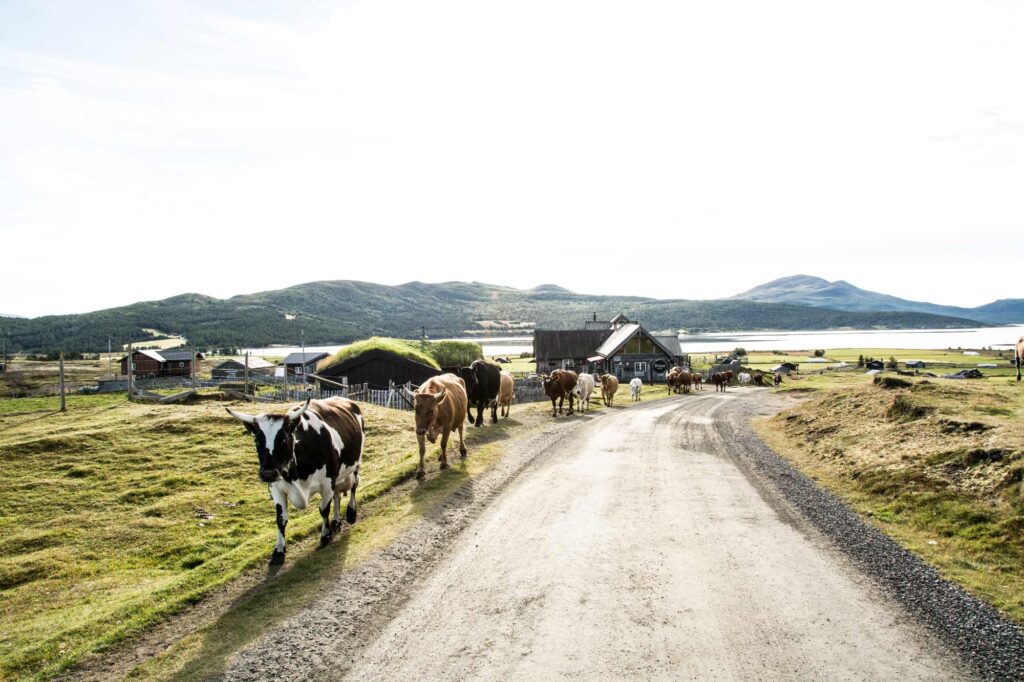 OUR
HISTORY
Viking King Olav the Sacred and fishermen from the Stone Age, incomparable fiddlers and enterprising shopkeepers: Brimi Seter is founded on a rich cultural history.
MOUNTAIN
FAIRY TALE
Premium class in Jotunheimen
The mountains have always has the lure of adventure and discoveries, challenges and nature experiences. Around Brimi Seter, dazzling mountain waters, magnificent high mountains and magical pine forests await – and some of the biggest natural attractions in the country.
Welcome to mountain adventures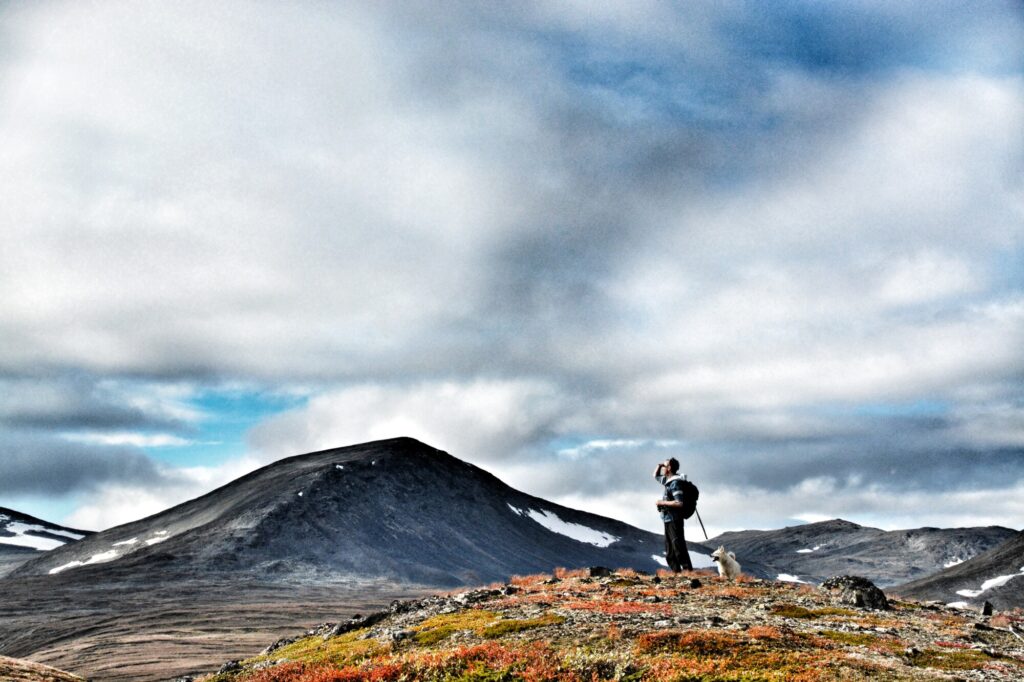 Summer at the mountain pasture
In the past, the all Norwegian seter – aka summer farm – was buzzing with activity. In the yard, in the cowshed, in the barn and in the sheds late and early. On bright summer days, we offer you an educational tour of discovery – so that you can experience living seat traditions in new packaging.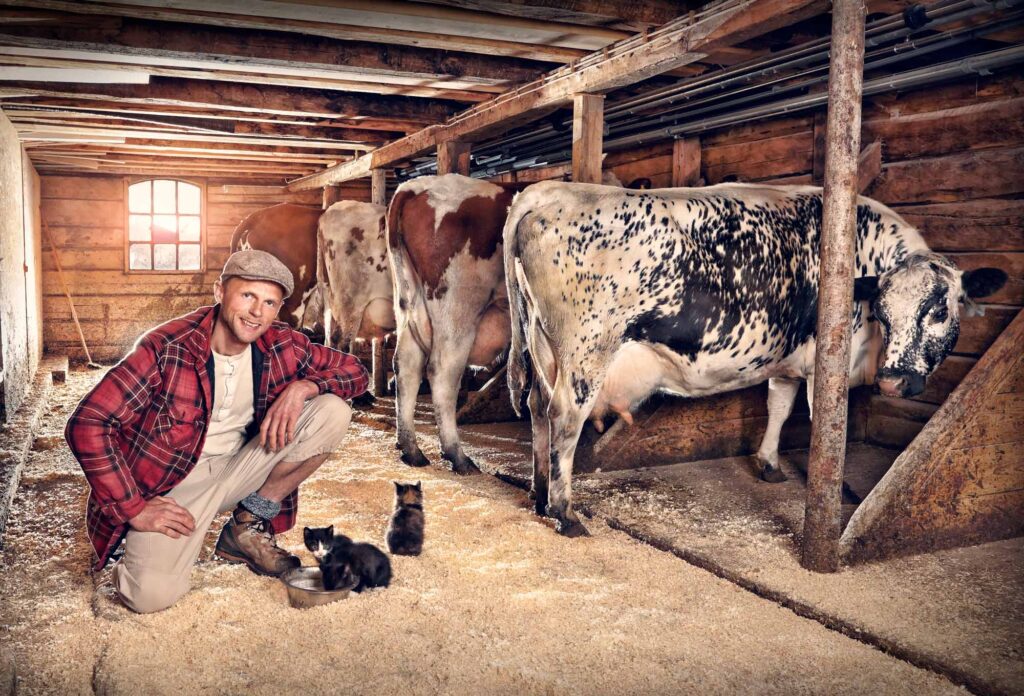 Traditionally run SUMMER FARM
Meet the animals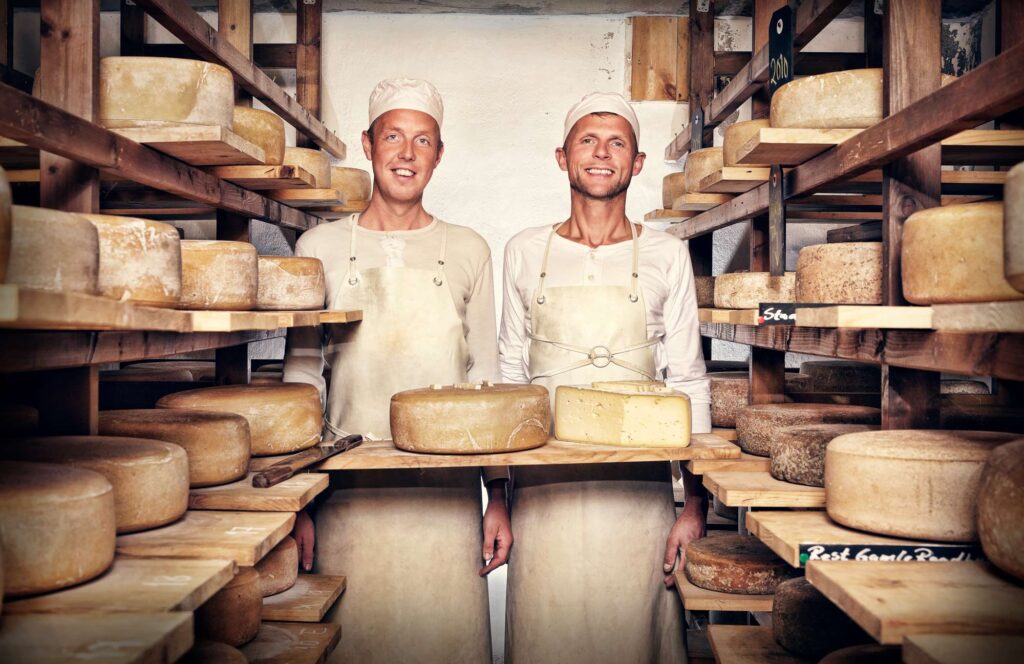 THE CRAFTSMANSHIP BEHIND AWARD WINNING
Cheese from the farm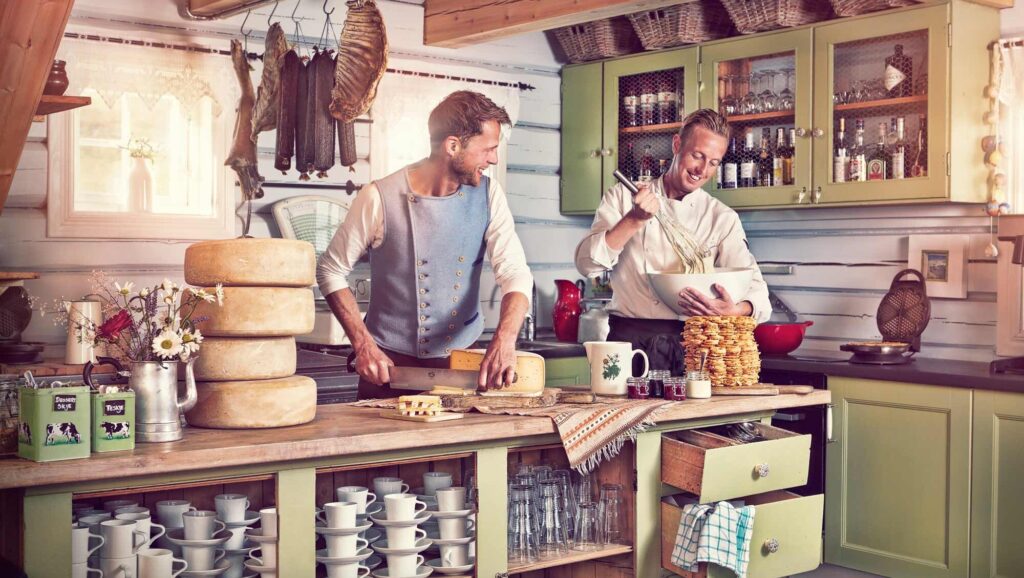 SHORT TRAVELLED RICHNESS OF TASTE
Café
Gift card
Give a memorable experience to the woman who has everything – or to the man who needs a top-up with mountain charm.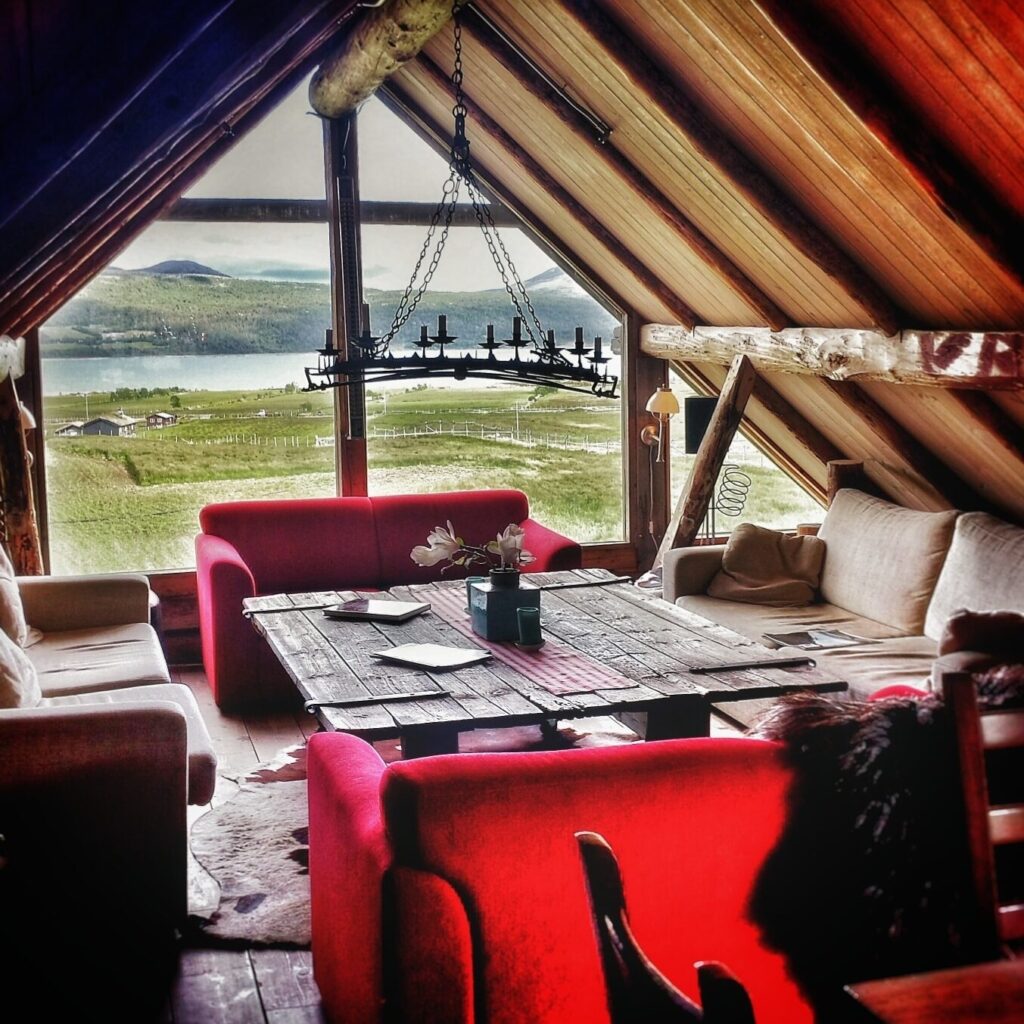 BRIMI SETER IS PART OF
Brimiland
Brimiland is a country that is not drawn on ordinary maps, not in atlases or on globes. But the land exists – in the fairy tale counties Vågå and Lom in Gudbrandsdalen.
Brimiland consists of unique family businesses that together and separately offer gourmet food and seter pension, mountain cabin and solid wood hotel, cheese factory and local food stall, log cabins and climbing park – topped by master chef Arne Brimi's incomparable local food venue Vianvang.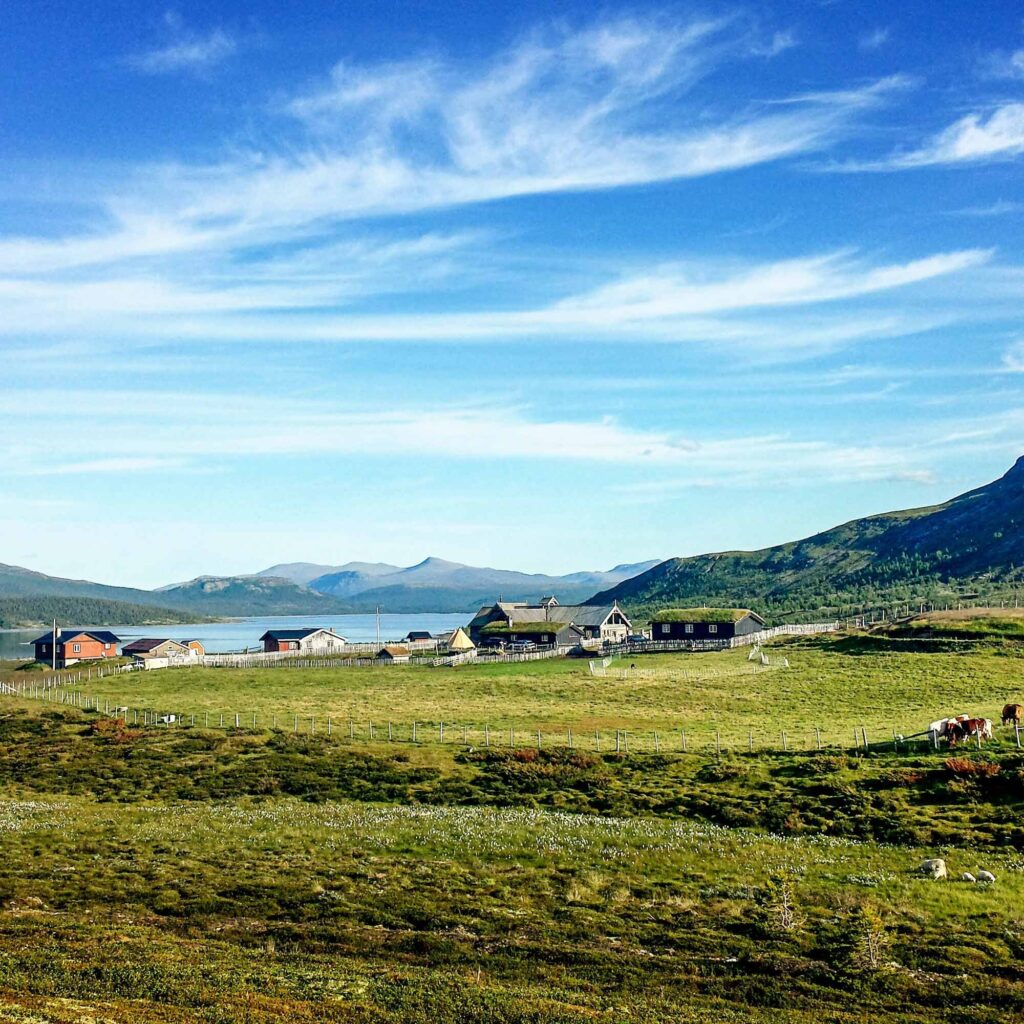 BOOKING OR REQUEST
Brimi Seter
Smørlivegen, 2685 Garmo
Tel: (+47) 400 75 153
Welcome to Brimi Seter!
Greeting from Hans, Ola and the staff at Brimi